STABILEX®-SUPER + STABILEX®-BIO-Aktivator
STABILEX®-SUPER is a highly effective two-component cleaner for drinking water tanks with all kinds of coatings and coverings. It removes iron, calcium and manganese deposits as well as impurities caused by fungus, algae and bacteria - all in one step.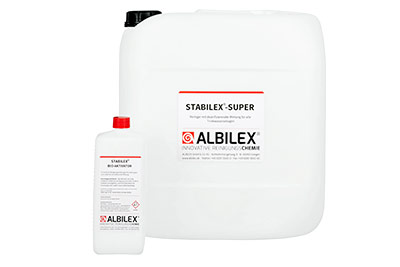 Characteristics
DVGW approved according W 319 as special cleaner for potable-water infrastructure systems
One cleaning disinfectant for all kinds of tank coatings and surfaces
Deep cleaning and disinfection effectGentle treatment of coatings, reinforced concrete and stainless steel fittings
Gentle to stainless steel tanks
User-friendly – no noxious gas generation
Certified eco-friendly characteristics
Easy disposal after cleaning

Application
Depending on the degree of fouling, STABILEX®-SUPER and STABILEX®-BIO-Aktivator (in a ratio of 1 to 2 portions STABILEX®-BIO-Aktivator with 30 portions of STABILEX®-SUPER) are mixed undiluted or diluted in water up to maximum 1:5. The solution is applied with a low-pressure sprayer on the surface which has previously been wetted with drinking-water. An exposure time of 5 - 20 minutes is required. Afterwards the surface is thoroughly rinsed with water. If necessary, very soiled patches in the splash-zone may need to be mechanically scrubbed.
If required, and in accordance to local regulations, STABILEX®-SUPER can be brought to a pH value between 6.5 - 9.0 by means of ALBILEX®-Neutralizer and then disposed to the sewage system.
Ingredients
STABILEX®-SUPER contains mineral acids, ester and non-ionic wetting agents. The non-mineral additives are easily degradable. Adding STABILEX®-BIO-Aktivator, a specially stabilized hydrogen peroxide solution, activated oxygen is set free, which increases the cleaning power.
Form of Delivery & Item-No.
The two-component product is available in following package sizes: