ALBILEX®-Destofix
ALBILEX®-Destofix is an odourless and tasteless eco-friendly universal disinfectant spray with outstanding efficacy – optimal for hygienically critical areas. It is ideal for mobile applications.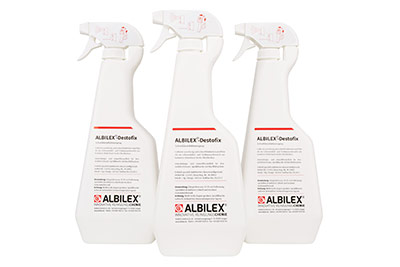 Characteristics
Quick and effective disinfectant
Spray mist dries residue-free
Handy and ideal for mobile applications
Refillable spray-bottle system
Eco- and user-friendly – complete decomposition of active substances
Based on specially stabilized hydrogen peroxide
Shelf-life 15 months
Application Areas
ALBILEX®-Destofix eliminates pathogenic germs and prevents recontamination. It is used in different industries (i.e. food, beverages, breweries, animal productions, chemicals industry), in municipal and industrial water supply as well as in pipework-construction.
Furthermore it is applied in sanitary installations (saunas, solaria, showers and swimming pools) and kitchen utensils (refrigerators, food containers, shelves, ventilation grills, dustbins).
It is also perfect to disinfect critical surfaces on planes, boats/ships and cars during journeys.
Application Method
Spray from a distance of 30 cm to the surface to be disinfected. Spraying liquid dries without residues and leaves behind a disinfected surface. Avoid longer contact with skin. Do not spray into eyes.
Effectiveness
The results shown hereafter are based on suspension tests performed and published by Solvay Interox (DLG method; Technical Information FA 1.10.2). In this test series the used suspensions contained mould / yeast concentration of 107 per ml, and bacteria of 109 per ml.
The figures listed in the table below show the cell/germ destruction time in minutes for different concentrations of H2O2. The hydrogen peroxide concentration of ALBILEX®-Destofix is 3%. As a consequence the destruction time is considerably reduced, but not linearly when using the product ALBILEX®-Destofix.
Decomposition time (in minutes) for moulds, yeast & bacteria cells/germs with different concentration of hydrogen peroxide (H2O2):
| % H2O2 | 0,035 | 0,100 | 0,350 |
| --- | --- | --- | --- |
| Staph. aureus | 40 | 20 | 1 |
| Esch. coli | 60 | 5 | 1 |
| Str. faecalis | 60 | 60 | 1 |
| Ps. aeruginosa | 60 | 1 | 1 |
| Sacch. carlsbergensis | 60 | 60 | 1 |
Ingredients
ALBILEX®-Destofix contains 3% hydrogen peroxide, specially stabilized.
Storage and Shelf Life
ALBILEX®-SUPER-3 is to be stored in an upright position at temperatures between 5°C to 25°C. Do not expose to heat. The shelf life of 15 months starting from production is mentioned on the label.
Form of Delivery and Item-No.
ALBILEX®-Destofix is delivered in following package sizes: