ALBILEX®-SUPER-3
ALBILEX®-SUPER-3 is an odourless and tasteless eco-friendly universal disinfectant spray with outstanding efficacy – optimal for hygienically critical areas.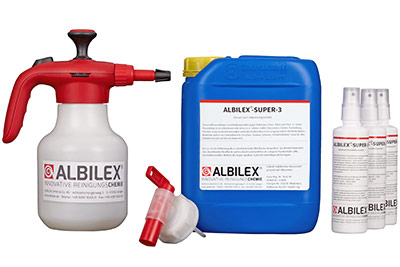 Characteristics
Quick and effective disinfectant
Spray mist dries residue-free
Handy and ideal for mobile applications
Refillable spray-bottle system
Eco- and user-friendly
Based on specially stabilized hydrogen peroxide and silver ions.
Shelf-life 24 months
Application Areas
ALBILEX®-SUPER-3 eliminates pathogenic germs and prevents recontamination. It is used in different industries (i.e. food, beverages, breweries, animal productions, chemicals industry), in municipal and industrial water supply as well as in pipeworkconstruction.
Furthermore it is applied in sanitary installations (saunas, solaria, showers and swimming pools) and kitchen utensils (refrigerators, food containers, shelves, ventilation grills, dustbins). It is also perfect to disinfect critical surfaces on planes, boats/ships and cars during journeys.
Application Method
Spray from a distance of 30 cm to the surface to be disinfected. Spraying liquid dries without residues and leaves behind a disinfected surface. Avoid longer contact with skin. Do not spray into eyes.
Ingredients
ALBILEX®-SUPER-3 contains hydrogen peroxide and silver ions as active substances.
Storage and Shelf Life
ALBILEX®-SUPER-3 is to be stored in an upright position at temperatures between 5°C to 25°C. Do not expose to heat. The shelf life of 24 months starting from production is mentioned on the label.
Form of Delivery & Item-No.
ALBILEX®-SUPER-3 is delivered in following package sizes:
Product
Quantity (kg)
Item-No.
Product Sheet
MSDS
200 ml-Sprühflasche
Karton á 15 Flaschen á 200 ml
5-kg-Gebinde
mit ALBILEX-Ablasshahn
mit 1,5-Liter Drucksprüher
0,2
3
5
120602
120600
120605
190265
190268
Download
Download