ALBILEX®-BR-bio + ALBILEX®-ASC
Strong cleaner for all potable water installations - tanks and potable water treatment facilities. It removes iron, scale and manganese depositions as well as deposits of aluminium compounds. The two-component cleaner is suitable for various materials such as synthetics, plastic coated steel and even steel itself.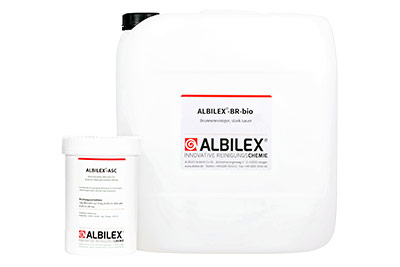 Characteristics
Approved according to DVGW bulletin W 319
Very strong cleaning power
Quick removal of even thick and persistent iron, scale- und manganese incrustations
Contains hydrochloric acid
No chlorine gas generation
Unlimited shelf life
Application method
Stir and dissolve the additive ALBILEX®-ASC (1 kg can) in 10 liters waters and mix this solution afterwards with 30 kg-can of ALBILEX®-BR-bio. Apply the cleaning solution with a low-pressure spraying kit to the surfaces to be cleaned. After an exposure time of 10-15 minutes it can be washed off with water.
Directions for use
Protect eyes, skin and clothes. Use rubber gloves and eye protection. In case of contact with eyes or skin, thoroughly rinse with plenty of water. Further information can be obtained at the material safety data sheet.
Disposal
After the cleaning procedure the wash water is neutralized to a pH-value between 6.5 and 8.0 with ALBILEX®-Neutralizer and then disposed to the sewage system.
Components
ALBILEX®-BR-bio contains mineral acid and non-ionic wetting agents. All non-mineral additives are biodegradable. ALBILEX®-ASC contains ascorbic acid.
Delivery Form & Item-No.
The two-component product, consisting of the cleaner ALBILEX®-BR-bio and the additive ALBILEX®-ASC, is available in following package sizes:
Product
Quantity (kg)
Item-No.
Product Sheet
MSDS
ALBILEX®-BR-bio
30
1050

130130
130100

Download
Download
ALBILEX®-ASC
1
130401
Download