ALBILEX®-UV
Highly-effective high-concentrate cleaning agent for UV-disinfection facilities such as reactors and radiation tubes / pipes. ALBILEX®-UV quickly removes even persistent depositions of organic and unorganic contaminations.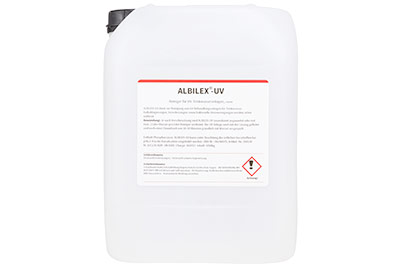 Characteristics
Special formulation designed for UV-disinfection facilities
Very intensive cleansing and disinfection effect
Fast removal of all organic and anorganic depositions of the reactor and radiation tubes
Gentle treatment of material and facilities
Certified eco-friendly characteristics
User-friendly - no noxious gas generation
Multiple reusability of cleaning solution
Application Method
Before the cleaning, the UV-disinfection facility is separated from the water network and fully discharged. Afterwards the facility is completely filled up either with the undiluted ALBILEX®-UV solution or with a diluted solution (up to 1:5 with water) by means of a pump or flushing equipment.
Alternatively it is also possible to remove the radiation tubes and to clean these in a soaking bath. The treatment period depends on the type and thickness of the incrustation as well as on the chosen concentration. In general an exposure time of 15 to 20 minutes is sufficient.
The cleaning solution is afterwards filled back to the PE-can. Provided that the pH-value is < 3, the cleaning agent can be re-used for subsequent cleanings. Measure the pH-value with ALBILEX®-pH-value indicator-paper (item-no.: 190153). Finally the UV-disinfection facility is thoroughly rinsed with clean water.
According to the local regulations ALBILEX®-UV can be disposed to the sewage system at a pH-value of 6.5 - 9.0. Adjust the pH-value with ALBILEX®-Neutralizer (item-no.: 140110), if necessary.
Ingredients
ALBILEX®-UV contains phosphoric acid and auxiliary agents. All non-mineral components are easily degradable.
Delivery Form & Item-No.
ALBILEX®-UV is supplied in following package sizes: