ALBILEX®-NanoRain
Windscreen and glass pane sealing – protection from rain, water and dust – improving visibility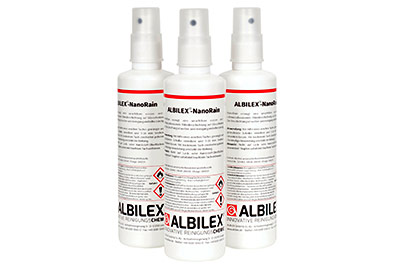 Characteristics
High visibility – no reflection of coating
Rain, snow and dust roll of the glass panes more easily
Suitable for windscreen, shower partitions and computer screens
Dust- and water repellent
Sealing is rain-resistant
Easy-to-use
Application
Apply ALBILEX®-NanoRain to a soft, dry cloth and rub into the clean, dry pane. Dry and allow to work for approx. 5-10min. Then buff until streak-free with a dry cloth. Two applications improve the effect.
Do not apply to painted or plastic surfaces. Wipe up accidental drips immediately using a damp cloth.
Ingredients
ALBILEX®-NanoRain is based on an alcohol solution of activated organosilicon compounds.
Delivery form & Item-No