ALBILEX®-SUPER-19
The disinfectant ALBILEX®-SUPER-19 is based on a mixture of 19% hydrogen peroxide and special silver ions with oligo-dynamic and bactericidal effect.
ALBILEX®-SUPER-19 is used for disinfection processes for many applications in different industries. Very common is the use of ALBILEX®-SUPER-19 by means of mist blowing devices (i.e. ALBILEX®-SUPER-Fogger, item-no.: 190140) as a fungicide for mold abatement purposes.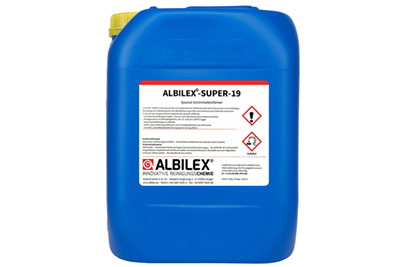 Characteristics
Strong algicidal, bactericidal and fungicidal effects
One disinfectant for all kinds of surface material
Simple to use and easy to apply by vaporizing / mist blowing equipment
Chlorine-free ensures no offensive smell
Long shelf-life (up to 18 months) due to decomposition and corrosion inhibitors
Simple and eco-friendly disposal of the disinfectant solvent
Application
ALBILEX®-SUPER-19 has a bleaching effect. Thus check the compatibility of material before use. The affected surfaces are being manually treated by means of spray bottles or by application of fogging/misting devices – for the integrated room treatment. The operation time of ALBILEX®-SUPER-19 should be at least one hour; afterwards the disinfectant should dry out on the treated surface / room. In case of fogging/misting, the treated rooms should be entered not before 1-2h after completion of the treatment. If necessary n case of severe mold contamination multiple-shot treatments should be executed. The use of ALBILEX®-SUPER-19 results in a disinfected surface and even – in case of application of mist blowers - spores of the room air will be thoroughly destructed. Wear protective gloves and safety glasses. Do not inhale aerosoles – wear respiratory protection.
Ingredients
ALBILEX®-SUPER-19 is a solution of hydrogen peroxide (19% H2O2) and silver ions. UN 2984 Class 5.1 III, hydrogen peroxide, aqueous solution. Follow instructions in material safety data sheet.
Storage life
ALBILEX®-SUPER-19 is being stored in upright position, in a dry and lightproof area at room temperature (up to 25°C) and should not be exposed to heat. The shelf life of an unopened original package is at least 18 months.
Delivery form & Item-No