ALBILEX®-KALK-EX
High concentrated, hydrochloric-acid-free descaling chemical product which is used in potable and process water sytems to remove scale. ALBILEX®-KALK-EX is optimized to descale pipes, tubes, heat-exchangers and all kind of water-leading infrastructure made of copper, steel and brass.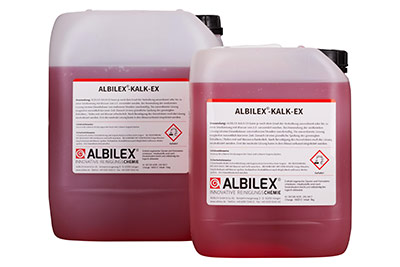 Characteristics
Descaling and cleaning in one step
Fast and efficient cleaning
Concentrate with very low odour
Free of mineral acids and phosphates
Economical due to reusability
Easy disposal of used solution as sewage water
Fields of Application
ALBILEX®-KALK-EX is used to treat surfaces covered with limescale and/or scale-rust-combination to dissolve the scale in water-flowing-systems, specially tubes, tube bundles, heat-exchangers and underfloor heatings.
Application
First of all flush all tubes and heat-exchangers to remove loose particles. At next ALBILEX®-KALK-EX should be spilled in undiluted or mixed with water to the minimum ratio of 1:3 for up to 8 hours. In circulating systems and if heated to 30°C, the reaction time will be reduced. When the cleaning process is finished, take out the solution. If it is still red, it can be reused until the colour turns to yellow. For further information read the material safety data sheet.
ALBILEX®-KALK-EX should not be used, when parts are chromed or zinced. If copper and aluminium are used at one time in the same system, the exposure time should be limited to 2 hours.
Components
ALBILEX®-KALK-EX is made of organic acids. Does not contain any hydrochloric acid.
Form of delivery & Item-No.
ALBILEX®-KALK-EX is delivered in following package sizes: